SPIRIT OF THE BEEHIVES —ENTERTAINMENT, DEATH
genre — noise rock, psych rock
for fans of — ovlov, horse jumper of love, black midi


The Philadelphia-based three-piece band Spirit of the Beehive's latest record
ENTERTAINMENT, DEATH
proves that, despite a shift in bandmates, they can remain loyal to their ethos while also creating an expansive collection of songs. According to their Bandcamp page,
ENTERTAINMENT, DEATH
does not cohere in a single, unifying theme, but even without a distinct trajectory it is entertaining and engaging nonetheless. Their varied sound is an experimental blend of psychedelic rock, shoegaze, screamo, and electronic, which continues to sound fresh and ripe with discovery after many listens. One thing many tracks have in common is their catchy, ear-worm quality like the record's first single, "THE SERVER IS IMMERSED," which features a toe-tapping melody with hypnotizing breathy vocals and guitar loops, or the second track, "THERE'S NOTHING YOU CAN'T DO," which begins with an equally hypnotic danciness that warps into audible chaos while lead singer Zach Schwartz screams "I'M YOUR FRIEND." There is no shortage of memorable moments regardless of their thematic or sonic continuity, part of the beauty of this record is its mildly elusive nature. It keeps you coming back for more.
score - 7/10
favorite tracks: THE SERVER IS IMMERSED, THERE'S NOTHING YOU CAN'T DO, GIVE UP YOUR LIFE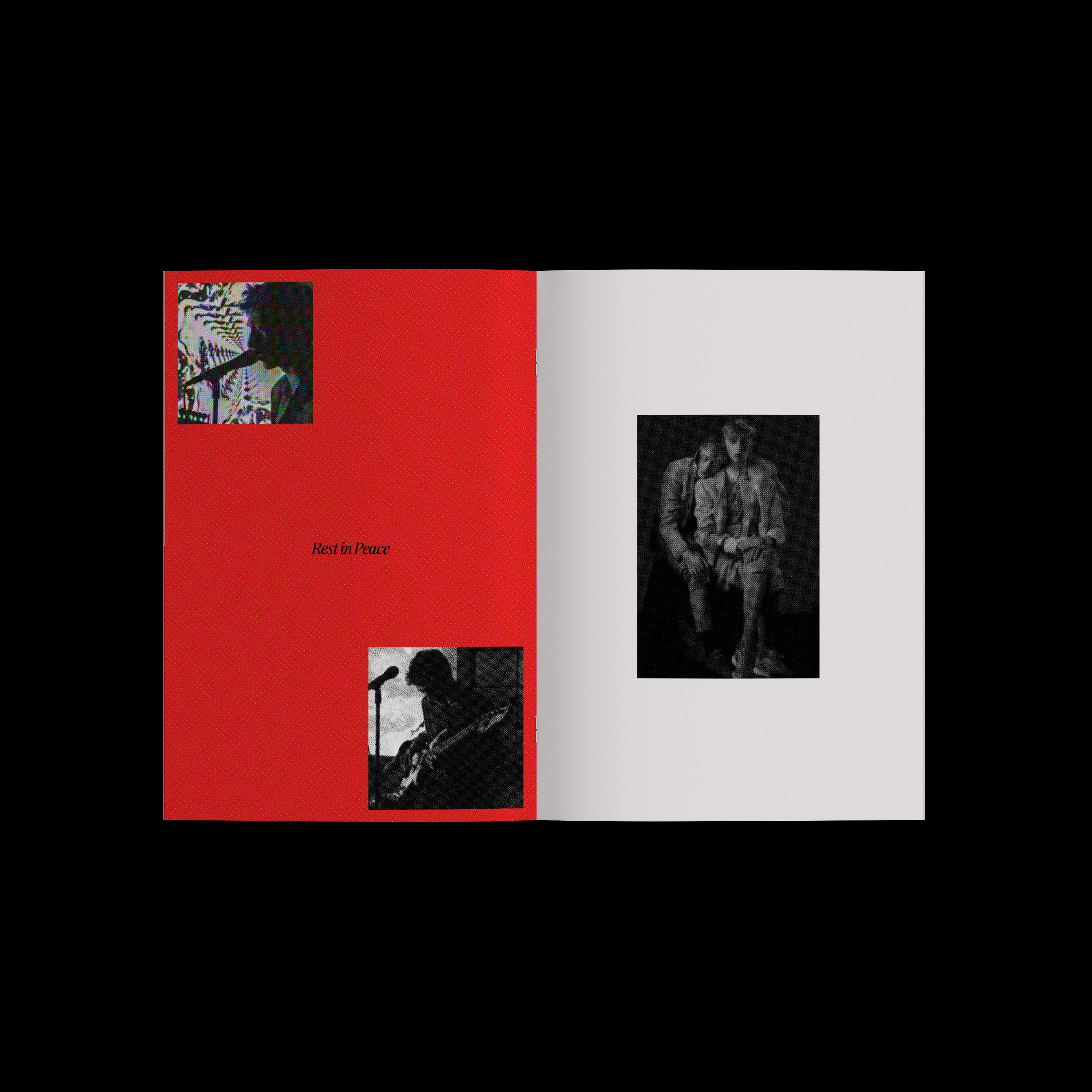 Plas Teg — Latch Relay
genre — dream pop, slow core
for fans of — floating room, plastic flowers, daydream machine
On April 14, Patrick Perkins announced on Twitter that his twin brother, musician and former Vine star Adam Perkins, passed away on April 11. In light of his death, Patrick re-released Adam's debut 2018 record,
Latch Relay.
The news hit harder than any previous celebrity death. Admittedly I shed tears over the loss of this young and beloved creative soul but I certainly was not the only one who expressed similar anguish: that day "Adam Perkins" trended on Twitter due to the influx of sympathetic condolences flooding the timeline in light of his death.
There is a reason his Vines have rightfully retained their icon status over the years while other content has aged like rust. Behind his iconic "HI, WELCOME TO CHILLI'S" Vine was an irreverent niche he and his twin brother masterfully created: a lo-fi, quasi-absurd mid-2010's comedy aesthetic dripping with originality and a balance of irony and sincerity that many current trending Tik-Toks are derived from. It was a Vine comedy style that echoed a mood at that moment for a generation of internet-poisoned adolescents with access to a smartphone 24/7. All I am trying to say is that his legacy could never be replicated and will never be replaced.
The news brought back memories of all the moments spent with the company of these Viners and their quick-witted humor to keep my persistent teenage languishing at bay. I am not alone in my sentiment of gratitude for Adam's comedic talents that got me through a dark and difficult period of my life.
Perhaps the news hit hard because Adam was about my age, 24 years old, when he died. Or maybe because of the false sense of familiarity these casual Vine stars inadvertently fostered — a quality that sadly lacks on most social platforms today. Back on Vine in 2015, even some of the most A-list celebrities like Kylie Jenner created shitposts that were surprisingly endearing and relatable in a completely authentic manner. Now, all we are left with is a dead-eyed Jenner looking unrecognizable on Instagram as she shows off her BBL in exotic locations and a hole in our hearts from the nostalgia of the mundane aesthetic of the early days of Vine before peak influencer culture and political discourse inflamed every corner of the internet.
The Perkins brothers epitomized the sense of (flase) comradery grown from the intersection of genuine relatability and talent endemic to Vine. For us, the viewers, these two fellow millennial-gen z cuspers felt like one of us. In the aftermath of the death of Vine, we continued to watch Adam and Patrick bloom alongside us as we graduated, went off to college, and further pursued our creative endeavors. As if old friends, checking up on the brothers every so often to see where the path of their lives led them. It is a tragedy that Adam's path ended far too soon.
I wish I did not have to discover this album under these circumstances, but dammit, I am glad I discovered it nonetheless. Released under the moniker Plas Teg, Adam Perkins's innate ability for emotionally moving creative output is impressive for his young age. His wide breadth of creative brilliance is demonstrated as he skillfully straddles different genres and styles throughout his debut record. Yet what unites the individual tracks as a whole is sensitivity.
The opening song "The Structure" sets the tone for the record with the melodic juxtaposition of experimental guitar and subtle piano notes that descend into screeching electronics. "The Engine" follows with a jazzy piano and snare as Perkins recalls a life-changing relationship with a former lover that ends with an ambiguous death by car crash. He never clarifies the ambiguity of their parting, instead ending abruptly with the sound of distant cars and his audible sigh.
"Redwood Reverie," the most popular track off the record, lives up to its name with woodsy folk guitar and lyrics that are somehow both personal but slightly nonsensical which reinforces the album's Sufjanian essence.
Latch Relay
closes with the perfect swansong, "Man and the Sea," a joint composition between Adam and his twin brother Patrick.
Adam Perkins has a rich creative legacy apart from stripping down and recording himself shouting about Chilli's into his bathroom mirror and while I am glad that this album exists as a beautiful tribute to his impactful life, I am heartbroken to know that this burgeoning musical talent was taken far too soon. My heart hurts for Adam's twin brother, Patrick, and the rest of the Perkins family. I wish them love and peace as they recover from this devastating grief. In honor of Adam's life, please consider supporting his music on Bandcamp and donating to fund the vinyl pressing of Plas Teg's
Latch Relay.

score — 8/10
favorite tracks — the engine, redwood reverie, man and the sea


Liance - This Painting Doesn't Dry
genre — chamber pop
for fans of — florist, the microphones, sufjan stevens
Liance's sophomore album
This Painting Doesn't Dry
is a heartfelt collection of honest confessions born from adversity. Liance's intimately crafted world is approachable for all listeners and is referential of many beloved indie acts like Sufjan Stevens, as well as bands like The National and War on Drugs, while simultaneously retaining a personal point of view. Throughout the record, he drifts from folk to emo singer-songwriter with dashes of banjo, cello, synth, mandolin, trumpet, field recordings, and other strange electronic noise, using his institution as his guiding force.
There is a refreshing earnestness at the heart of
This Painting Doesn't Dry
. The Hong Kong native, Brighton-dwelling musician said his latest release is about "the intersection of your own life and human history - how all experiences, no matter how personally specific or emotionally intense, have intertextuality with the entire pool of human experience. And the mystery and hope within that!" Liance also writes that he wrote, recorded, and mixed almost everything at his house during quarantine, a time he describes as "the most challenging period of my life, something I truly did not think I would survive."
The apex of
This Painting Doesn't Dry
is the last track, "TAMSY," a 12-minute Sufjanian track culminating towards the gradual build of a textural arrangement of electronic instrumentation in the final minutes of the record. He offers empowerment for his audience with lyrics "if you can make it through 2020 / you can definitely make it through this" following with the philosophy central to Liance's work: "each oceanic moment adds up to a life...it all adds up / even small things add up in time."

score — 7/10
favorite tracks — the decameron, this painting doesn't dry, tamsy