Deafheaven — infinite Granie
genre — shoegaze
for fans of — slowdive, planning for a burial, converge

Somewhat regretfully I admit that this year's album rollouts have been incredibly underwhelming. I couldn't name a single record released in the last seven months that stayed in my rotation for more than a week, which is fairly shocking considering I ultimately deemed last year's releases to be just above lukewarm. However, there are a large handful of 2020 records to which I consistently return.
But lo! In early June, San Francisco black metal/shoegaze band Deafheaven came to save us all with the announcement of their latest studio album Infinite Granite and the release of its first single, "Great Mass of Colors." Before the record's release on August 20, I had listened to that track well over 100 times.
Deafheaven have a special place in my heart. Their 2013 record
Sunbather
was one of the first metal records that got me immersed in the genre. Before
Sunbather
, black metal felt too inaccessible, slightly too abrasive, but Deafheaven's unironic approach to songwriting and decision to focus on the music rather than the aggression made that record resonate deeply. Deafheaven are musicians who do not stay stagnant in the style of their craft — I enjoyed the way the band progressed in
Ordinary Corrupt Human Love
to incorporate more shoegaze with heavier tracks and I hoped that
Infinite Granite
would prove to be another formidable progression. And it is quite the progression: an entire shoegaze album is the sharpest turn in the band's history, but it is really really good shoegaze.
Critics will knock Deafheaven for selling out and abandoning their signature blackgaze sound while others will praise the pivot. Seasoned fans are drawn to this band specifically because of their invention of blackgaze that made them stand out amongst other bands in the black metal and shoegaze scene and opened the gates for folks like myself to explore this genre.
Though I personally enjoy the shoegaze-inspired post-rock sound they have wielded on
Infinite Granite
, I am simultaneously disappointed to see Deafheaven close the chapter on blackgaze (for now). However, Deafheaven have not removed all blackgaze elements but rather refined them into an enigmatic tension that holds
Infinite Granit
e together.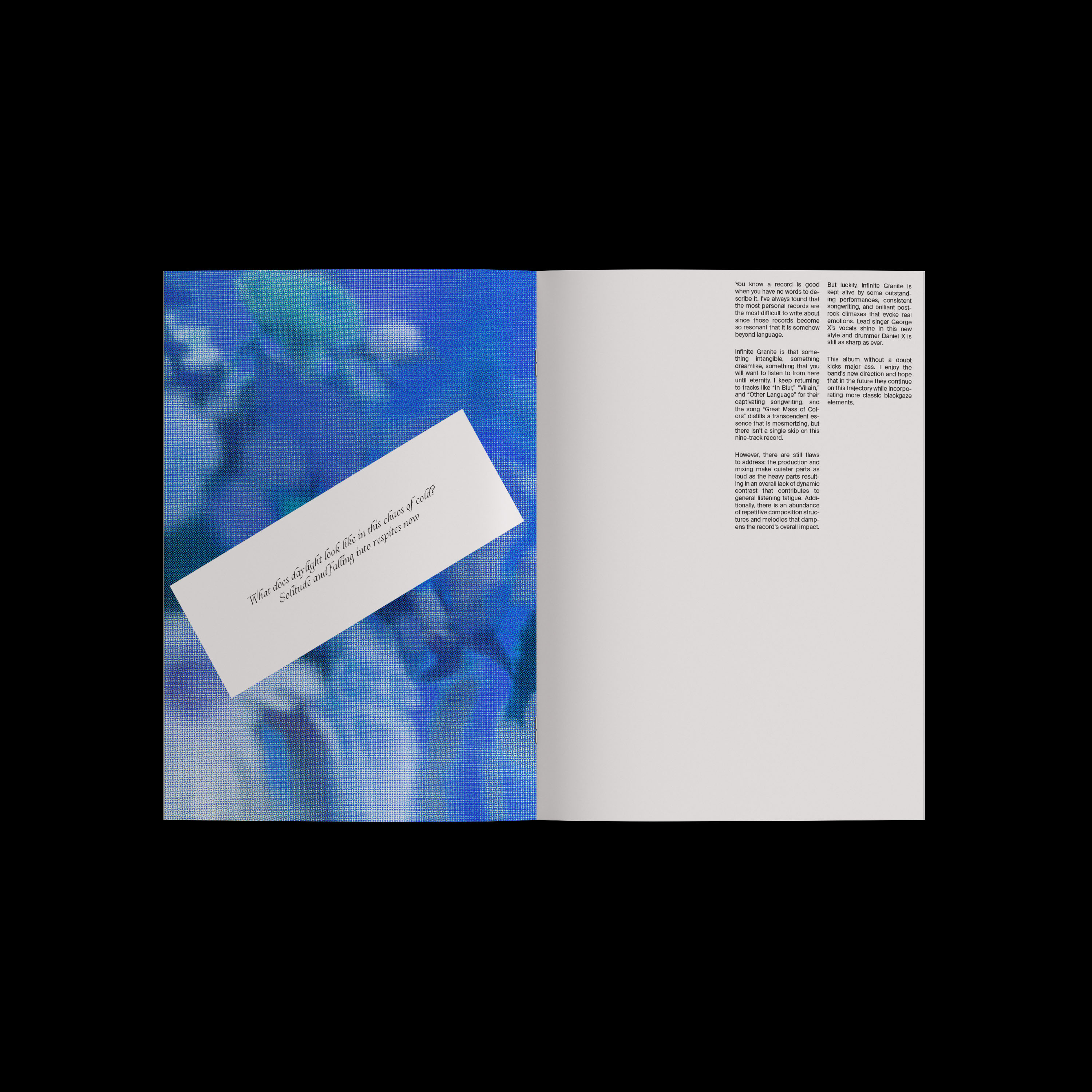 You know a record is good when you have no words to describe it. I've always found that the most personal records are the most difficult to write about since those records become so resonant that it is somehow beyond language.
Infinite Granite
is that something intangible, something dreamlike, something that you will want to listen to from here until eternity. I keep returning to tracks like "In Blur," "Villain," and "Other Language" for their captivating songwriting, and the song "Great Mass of Colors" distills a transcendent essence that is mesmerizing, but there isn't a single skip on this nine-track record.
However, there are still flaws to address: the production and mixing make quieter parts as loud as the heavy parts resulting in an overall lack of dynamic contrast that contributes to general listening fatigue. Additionally, there is an abundance of repetitive composition structures and melodies that dampens the record's overall impact But luckily,
Infinite Granite
is kept alive by some outstanding performances, consistent songwriting, and brilliant post-rock climaxes that evoke real emotions. Lead singer George Clarke's vocals shine in this new style and drummer Daniel Tracy is still as sharp as ever. This album without a doubt kicks major ass. I enjoy the band's new direction and hope that in the future they continue on this trajectory while incorporating more classic blackgaze elements.

score — 9/10
favorite tracks — in blur, great mass of color, villain
Kanye West— Donda
Finally, a month and a half and three listening parties later, Kanye West has released his long-awaited 10th studio record,
Donda
.
Donda
, named after West's late mother, arrived on streaming platforms at 8 AM EST on Sunday, August 29, three days after his third album listening party at Soldier Field in Chicago. West's third and final listening party followed two album demo streams and a stint of living in a spare room at the Mercedes Benz Stadium in Atlanta. His third performance featured an exact replica of his mother's Chicago home with an illuminated cross in the center of the stadium — it was nice to see how far he progressed since standing in the center of an empty arena floor about a month prior at the first listening party.
The third 90-minute Apple Music stream was full of some unforgettable moments from literal flames to controversial figures. Shortly after the stream began, black trucks and lines of extras donned with "DONDA" vests circled the gate enclosing the yard of West's childhood home. Standing outside on the porch was Kanye himself joined by DaBaby while Marilyn Manson, as if he accidentally wandered in from the streets, awkwardly lurked in the back, the Jumbotron intermittently cutting to closeups of this famed atheist's face framed by alternating Bible verses. Naturally, the internet went haywire over the appearance of these two recently canceled figures: DaBaby was recently canceled for homophobic speech, Manson was accused of domestic and sexual abuse.
On one hand, I understand the symbolism of DaBaby and Manson's presence under Kanye's cross-steepled childhood home as a commentary on the incompatibility of cancel culture (and its cousin, prison culture, about which Kanye has historically been outspoken) with Christ's ethos of forgiveness. Jesus surrounded himself with the outcasts, the tax collectors, and the prostitutes, and other members their society viewed as irredeemable; Redemption in Jesus is there for all, even the worst of the worst like Manson. Forgiveness as a Christian isn't an absence of consequences, but Christians are called to love and forgive. And that seems hard as fuck with someone like Manson. Maybe that's the point. We don't love our enemies because they deserve it, we do it because God first loved us. And isn't that the most radical message that could be offered during this time?
Media are quick to slander the entirety of
Donda
based on Manson's presence alone: the Independent rated the record zero out of five stars simply because Manson was featured on the second version of "Jail," completely incapable of seeing beyond a veil of "Kanye endorses serial abuser" thus proving his point against the cultural hostility from reactives who are wilfully blind to artistic nuance in favor of parroting pre-approved liberal narratives.
However, Kanye is neither Jesus nor God (no matter how much he thinks he is). It is not his responsibility to forgive those who commit atrocious crimes, nor did it seem particularly appropriate to have the presence of a serial abuser of women at what was essentially a tribute to Kanye's beloved late mother. While I'm in favor of his symbolic sentiment of Judeo-Christian forgiveness, I found the execution to be mostly tactless — he could have executed this theme without spotlighting someone as depraved as Manson. That being said, I never look to Kanye to be any sort of arbiter of morality, and I expect him to pull controversial stunts; I love him as an artist specifically for his unfiltered and unabashed nature in an overly pruned culture. Even so, Manson's presence at the listening party wasn't a good look for either himself or Kanye, though I'm not opposed to Manson's vocal feature on "Jail Pt. 2" and frankly appreciate the morbidly coincidental nature of hearing him sing "We are liars" and "Guess who's going to jail tonight?"
The climax of the stream was the second-to-last track, a new addition to the setlist, during which West was seen entering his childhood home before sitting in a sparsely furnished bedroom as it became engulfed in flames. Chills covered my body and my jaw hung open as he walked out of the building ablaze, phoenix-style, and fell on his knees as the piano of "Come to Life" ascended with the flames into the night. Just as the viewers thought the spectacle had come to an end, all attentioned turned to none other than Kim Kardashian West herself in a Balenciaga haute couture wedding dress walking towards her ex-husband as the melody of "No Child Left Behind" filled the stadium. Once she reached her (formerly?) betrothed, Kanye finally took off his mask after months of hiding and flashed a classic, heart-warming Kanye grin, ushering in a new era of Kimye.
Part of me wishes I abstained from viewing the listening parties so that I could have approached
Donda
with fresh ears, however, these three streams were pretty unforgettable and an absolute rollercoaster to watch progress. Maybe if I wasn't so bored and disaffected by the world around me, I would be annoyed at the opaque drawn-out process of his self-indulgent navel-gazing "performances." However, since we've been trapped in a pandemic for over a year, I'm starved for novelty and enjoyed watching Kanye pull some stunts that were even outlandish for Kanye — the amusement and anticipation it brought to my life was very welcomed. I'm truly surprised that the record dropped when it did, but I couldn't be more thrilled that it's here.
Donda
feels like the culmination of all of West's recent work: a
The Life Of Pablo
-style tracklist with minimalist ye-like production and the gospel rap of
Jesus Is King
but infused with great lyricism and an undeniable passion that is comparable to
My Beautiful Dark Twisted Fantasy
and
Yeezus
.
It boasts 27 tracks that runs just under two hours. This may seem excessive because it is — the tracklist itself is in desperate need of refinement and many songs could benefit from trimming and tightening: the outro of "God Breathed" could be cut, the latter verses of "Junya" and "Hurricane" lack compelling beats to properly sustain significant interest, and the rambling ending of "Pure Souls" is unecessary. I tend to skip over weaker tracks like "Donda," "Jesus is Lord," "Keep My Spirit Alive," "Tell the Vision," sometimes "24," and though I tepidly enjoy the hype-nature of "Junya," I can hardly listen to the track in its entirety without feeling bogged down by its melodic monotony. The three superfluous part-two bonus tracks at the end weigh the project down significantly, and I personally consider "No Child Left Behind" to be the honorary closer of the record.
The record begins with a 52-second track of growing voices chanting Donda's name before going into "Jail" — the original LP 1 version featuring Jay-Z's verse. Jay-Z's half-assed, mailed-in attempts deflate the overall impact of the first version of "Jail" and, as mentioned previously, I prefer the charged energy as well as the packed flow of DaBaby's verse on "Jail Pt. 2." Upon release, "Jail Pt. 2" was blocked due to DaBaby's refusal of clearance but was approved shortly after and is now available to stream on all platforms.
I find myself frequently returning to track three "God Breathed" and track four "Off the Grid" for their Yeezus-esque intensity. "God Breathed" sounds like it could be the sequel to Yeezus' "I Am A God," but this time instead of flaunting his God-like essence, Kanye is asking the listener to put their trust in God backed with minimalist beat-heavy instrumentals and what sounds like some gregorian throat chanting. The soulful Huston artist Vory's feature on the third verse of "God Breathed" is a particularly moving part of the record. He makes additional appearances later in
Donda
on "Jonah" and "No Child Left Behind," each time, his emotive voice pierces my heart and leaves a lingering melancholic impression. "Off the Grid," where Kanye raps about a living a life of solitude and privacy, goes exceptionally hard with features from Playboy Carti and Fivio Foreign, both of whom are laying bars like rent is due tomorrow, resulting in two of the strongest features of the whole record.
I much prefer the lyrics and flow of the LP 1 version of track six "Praise God" as well as the original version of track seven "Jonah" without the additional beeping beats, but these edits don't completely revoke my enjoyment of each track. The following track "Ok Ok" has been an initial favorite, though the second verse from Lil Yatchy drags before gaining momentum again, ending with a resonant third verse from fellow Chicago native Rooga.
Track ten "Believe What I Say" is about the trials and tribulations of a life of fame and love. This song begins with a sample of Lauryn Hill, ends with an unnecessary and cheesy interlude poem from Jamaican musician Buju Banton, and is chock-full of danceable beats and groovy basslines that ultimately make it a solid late-summer jam. Track 12 "Remote Control," where Kanye pokes fun at our technologically-laden society, features another strong beat with a juicy verse from Young Thug that's overshadowed by Kanye's outro sample of the viral meme "The Globglogabagalab" from the 2012 Christian allegorical animated film Strawinsky and the Mysterious House (a sample which was very thankfully shortened from it's initial version at listening party three, however not nearly shortened enough). The gritty buildup and satisfying drop of track 14 "Heaven and Hell" is transcendent, and maybe this is the recency bias speaking, but I think it's safe to say that it has easily secured itself as one of the top 10 songs in Kanye's discography. With its cheeky quintessential Kanye opening line and slick beat, the evangelical track 19 "New Again" is another standout and frequent listen on
Donda
.
Track 23 "Come to Life" immediately captured my heart when it debuted at the end of LP 3. Kanye's moving vocals and lyrics combined with the footage of him engulfed in flames resulted in an awe-inspiring viewing experience. Kanye draws from the emotive power of former tracks like "Streetlights" and "Runaway" for this raw piano ballad recalling the regret for his crumbling marriage and the love for his children that ultimately sustains him. If you haven't realized by now, I'm an absolute sucker for a strong ballad in which to wallow, so this track is certainly one of the highlights on the record and showcases Kanye's ability to grasp and acutely express many facets of emotional experiences.
That being said, I was initially completely turned off by the album version — frankly I was (and still am) very off-put and borderline disturbed by the addition of field recordings of fervorously shouting church-goers. At first I was crushed that he sullied an incredibly touching piece with something so auditorily divisive. Thankfully this unpleasantness ends halfway through before returning to the piano arrangement that escalates into a commanding closing verse that tapers off into blooming piano chords as the song ends.
Ultimately, my feelings on
Donda
are fairly mixed: half of the material on the record works while the other half leaves me cold. I will say, the highs are remarkably high and are some of my favorite moments since Yeezus, but the lows suck the momentum from the overall flow of the record leaving it feeling unfinished and overly bloated. Excluding those duds still leaves a generous album length with a powerful tracklist. However, for a project that seemed so personal, Donda is surprisingly scatterbrained and lacks coherent sequencing or a greater narrative arc apart from occasional motifs like the road to redemption before a higher power, the falliability of prison culture, and Kanye's sustaining love for his children.
In preparation for
Donda,
I've been reminiscing about other records in Kanye's discography that have been consistent companions throughout the years:
808's and Heartbreaks
accurately mirrored the previously unspoken weight on my heart after my first major breakup,
Yeezus
allowed me to express a previously inaccessible abrasive anger that desperately needed to be released, and
The Life of Pablo
defined a season of life when I finally started to develop an authentic sense of self. I'm feeling particularly grateful for this album release during this particular time when I need this quality of his music the most. And thank God there are many resonant moments on this record that do not disappoint.
Like I've said, the highs of
Donda
are remarkably high indeed. Intoxicating, even. Kanye continues to be one of the absolute best producers in the industry, and though the record is censored, overly saturated with tracks, way too heavy on the church vibe, and rough around the edges with inconsistent mixing and a general lack of refinement, I do believe it will ultimately be a classic in his discography.
score — 8/10
favorite tracks — off the grid, jonah, ok ok, believe what i say, remote control, heaven and hell, come to life, jail pt. 2
Foxing— Draw Down The Moon
genre — indiepop
for fans of — beirut, old gray, free throw
St. Louis-based trio Foxing debuted their fourth studio album
Draw Down The Moon
, continuing upon the expansiveness of their first three records:
"It's about the idea of our cosmic significance, the way you feel like a tiny speck in the grand scheme of the universe, that's a feeling everybody has. You can get lost thinking about how small you are. But [
Draw Down the Moon
] subverts that bit to explore how your connection to people and places and ideas is what binds you to the universe and reality. There are no life lessons in the record. It's just saying: It's ok to feel like this. We are all insignificant, but everyone around us is so insignificant, and together, we actually make up all of reality in the universe." - Conor Murphy
Draw Down The Moon
starts with a powerful chamber pop song called "737" that starts soft and ends with the heaviest moments on the album. The crashing and screaming bridge transitions into track two, "Go Down Together," which is a radio-friendly melody derivative of many peak indie acts of the mid-noughties. Foxing are at their most urgent and hook-heavy on track three, "Beacons," with a synth-focused arrangement and dynamically powerful vocals from lead singer Conor Murphy. The rest of the record is split with hits and misses, but it reaches a peak at the middle of the record with "Bialystock," a track named after the largest city in northeast Poland, which captures the quintessence of this record with its booming, drum-heavy chorus confessing the woes of feeling homesick for a person sandwiched between spacious and fluttering verses reminiscing on shared quotidian moments, emphasizing the importance of sacred insignificance in the face of cosmic vastness.
The record also ends strong with the final two tracks: The anthemic "If I Believed in Love" is another synth-heavy song with an exploding chorus. The final track, "Speak With The Dead," was the record's first single. Though I wasn't very impressed upon release, this track grows more endearing with each listen. This seven-minute track is a standout on the record not just for its length but for its multidimensional quality as the lyrics explore the path from depression to the acceptance of grief. This track journeys through droning synths, glaring horns, and a strong math-rock guitar line that ends with haunting vocals from Yoni Wolf of WHY? repeating "Wherever I go, there you are."
What Foxing captures well in this album is the dissonance of simultaneously feeling ruptured from heartbreak while still possessing an uncompromising belief in the power of love. These notions are explored throughout the album in moments like the chorus of the opening track "737" where Murphy belts out, "I can't do this alone." Or that of "Bialystok" where he sings, "without you I feel so homesick everywhere I go," to then declare on track nine "If I Believed In Love" that he, "believe[s] in love and it was worth [his] blood." I suppose it is cliche to say, "it is better to have loved and have lost than to never loved at all," but aren't cliches cliche for a reason?
Even though the themes of the album are those of cosmic vastness, Foxing still reminds us that our collective cosmic smallness ultimately adds up to become pretty vast itself. The band gets big points for their signature earnestness and willingness to stretch the dimensionality of their work in
Draw Down the Moon.
At its best, it is masterfully refined chaos. At its worst, it is forgettable indie/dance rock with predictable song structures, yet the album as a whole remains emotionally dialed-in and packed with hooks regardless of each track's individual instrumentation and production.
score — 7/10
favorite tracks — 737, bialystok, if i believed love