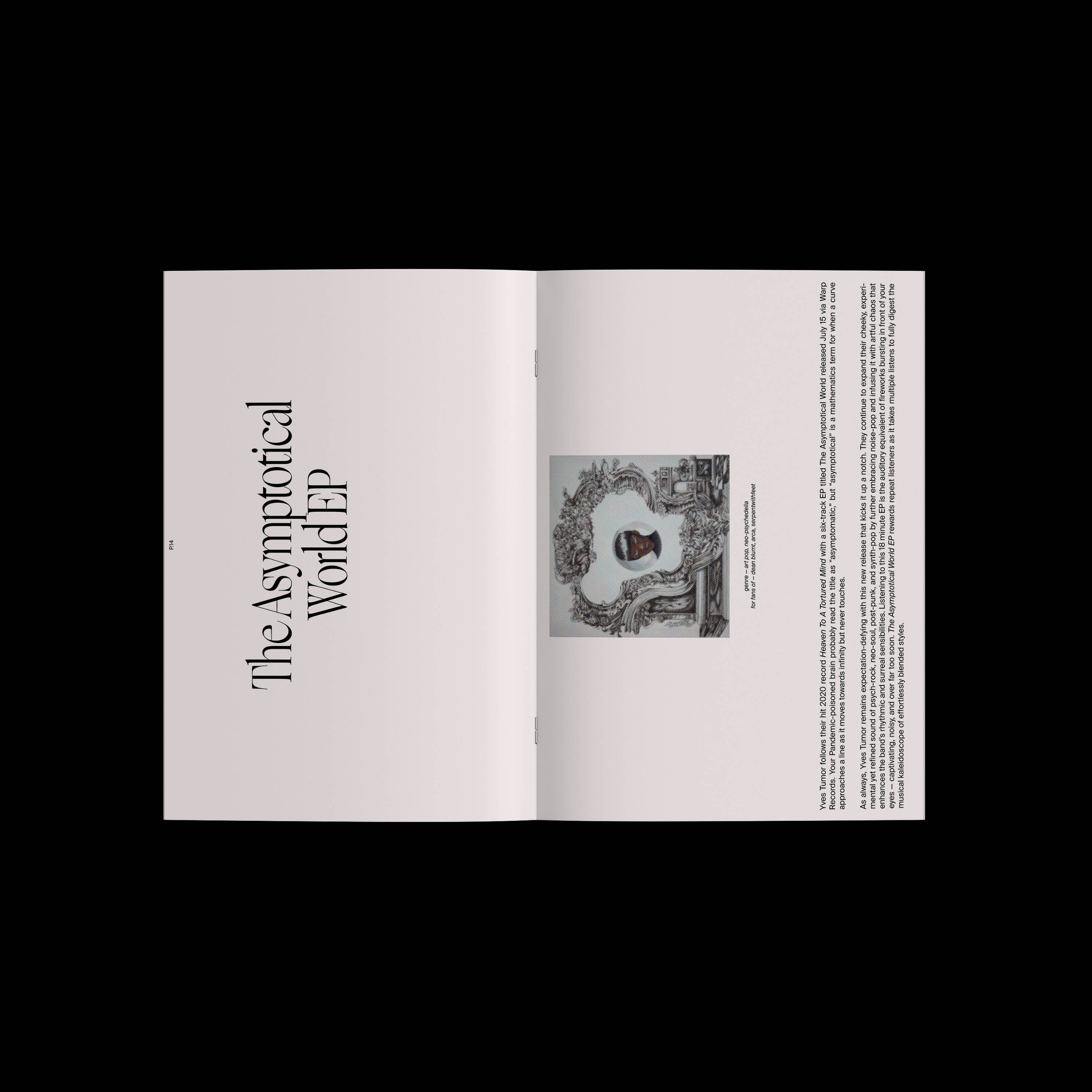 Yves Tumor — The Asymptotical World EP
genre — art pop, neo-psychedelia
for fans of — dean blunt, arca, serpentwithfeet

Yves Tumor follows their hit 2020 record Heaven To A Tortured Mind with a six-track EP titled The Asymptotical World released July 15 via Warp Records. Your Pandemic-poisoned brain probably read the title as "asymptomatic," but "asymptotical" is a mathematics term for when a curve approaches a line as it moves towards infinity but never touches.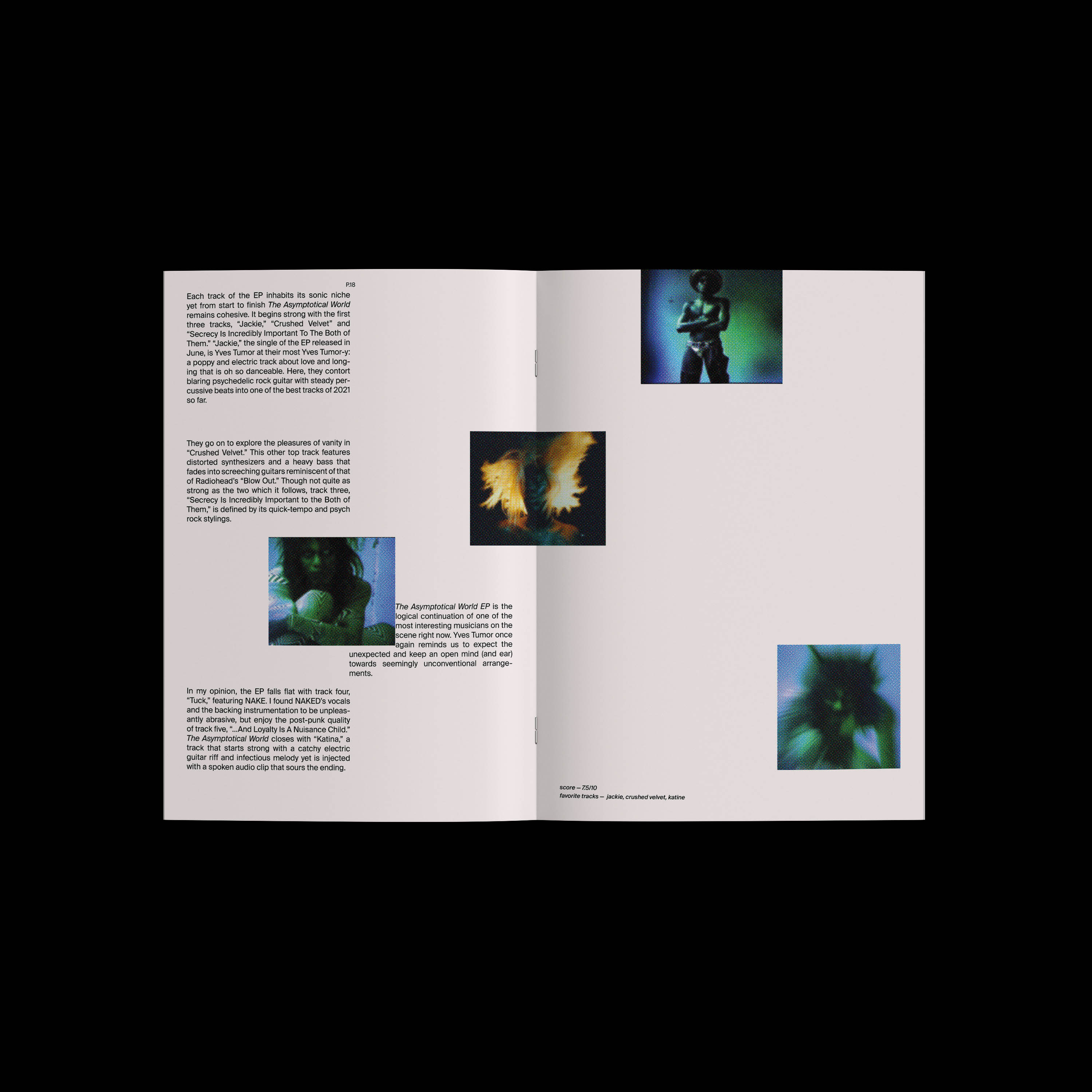 As always, Yves Tumor remains expectation-defying with this new release that kicks it up a notch. They continue to expand their cheeky, experimental yet refined sound of psych-rock, neo-soul, post-punk, and synth-pop by further embracing noise-pop and infusing it with artful chaos that enhances the band's rhythmic and surreal sensibilities. Listening to this 18 minute EP is the auditory equivalent of fireworks bursting in front of your eyes — captivating, noisy, and over far too soon. The Asymptotical World EP rewards repeat listeners as it takes multiple listens to fully digest the musical kaleidoscope of effortlessly blended styles.
Each track of the EP inhabits its sonic niche yet from start to finish The Asymptotical World EP remains cohesive. It begins strong with the first three tracks, "Jackie," "Crushed Velvet" and "Secrecy Is Incredibly Important To The Both of Them." "Jackie," the single of the EP released in June, is Yves Tumor at their most Yves Tumor-y: a poppy and electric track about love and longing that is oh so danceable. Here, they contort blaring psychedelic rock guitar with steady percussive beats into one of the best tracks of 2021 so far.
They go on to explore the pleasures of vanity in "Crushed Velvet." This other top track features distorted synthesizers and a heavy bass that fades into screeching guitars reminiscent of that of Radiohead's "Blow Out." Though not quite as strong as the two which it follows, track three, "Secrecy Is Incredibly Important to the Both of Them," is defined by its quick-tempo and psych rock stylings.
In my opinion, the EP falls flat with track four, "Tuck," featuring NAKED. I found NAKED's vocals and the backing instrumentation to be unpleasantly abrasive, but enjoy the post-punk quality of track five, "...And Loyalty Is A Nuisance Child." The Asymptotical World closes with "Katina," a track that starts strong with a catchy electric guitar riff and infectious melody yet is injected with a spoken audio clip that sours the ending.
The Asymptotical World is the logical continuation of one of the most interesting musicians on the scene right now. Yves Tumor once again reminds us to expect the unexpected and keep an open mind (and ear) towards seemingly unconventional arrangements.

score — 7.5/10
favorite tracks — jackie, crushed velvet, katine
Kanye West— Donda Live Listening Event From Atlanta
On July 19 Kanye West announced a listening party stream on July 22 for his latest album Donda.
Like many others in my generation, Kanye has been a defining musician throughout my late adolescence and emerging adulthood. At his best, his abrasive, emotive, innovative sound enhances my world and reminds me why I love music in the first place. His discography is packed front-to-back with visceral tracks that seamlessly capture raw emotions and harsh truths, from 808's and Heartbreaks to Yeezus, many of his records have been a cornerstone of my cathartic self-discovery through music.
As I've felt that most of this year's releases have been unmemorable, I was initially thrilled to hear that he announced plans to release a new record with an Apple Music listening event, but as a seasoned Kanye fan, I was of course skeptical of the imminent release given his history of tardy and failed album rollouts. So, as always, I told myself I'll believe it when I can stream it on Spotify.
On the night of his listening event stream, he, in typical Kanye fashion, was two hours late for his performance, though I'm not sure I can call what transpired a proper "performance," per se.
I'm not sure what I was expecting entirely, but what we got certainly wasn't it. West came out onto the empty floor of the stadium to stand and stare at his cheering crowd. Wearing a red puffer suit and what looked like a pantyhose balaclava, Kanye spent the entirety of his 50-minute live stream roaming around the floor of the stadium.
Frankly, I was just blinded by the excitement of actually listening to new Kanye material. My enjoyment of the stream was sustained by a few short but brilliant moments scattered throughout the set.
Grief and God seemed to be a common thread throughout his lyrics, and, though the record is titled after his late mother, Donda, she is scarcely mentioned apart from audio recordings of her voice that seemed to be somewhat thoughtlessly juxtaposed between other snippets of other unfinished tracks. The pain from his recent divorce from his wife of 8 years, Kim Kardashian, paired with his already deteriorating mental health obviously inspired moments of the album like when he cries out "I'm losing my family" during "Never Abandon Your Family."
But let me tell you, when track eight, "Moon," started playing, I was blissed tf out. This interlude track features vocals from up-and-coming Huston musician Don Toliver. Although short, it is nevertheless sweet as the echo of Toliver's falsetto vocals provides an almost euphoric listening effect.
"Moon" is followed by track nine, "Jonah," also known as "Shoulder to Lean On," which features Huston singer Vory and a verse from Chicago rapper Lil Durk. This song begins with a melancholic chorus lamenting the grief of abandonment, the consequences of loneliness, and the heartbreak of betrayal while trying to fight his "demons" without his significant other. In the chorus, Vory repeatedly sings in an anguished tone: "Who's here when I need a shoulder to lean on? / I hope you here when I need the demons to be gone / And it's not fair that I had to fight 'em all on my own." Hearing these lyrics for the first time was an emotional punch to the gut after navigating the past year trying to recover from a despondent breakup during the pandemic. For a moment I thought to myself, "this is autobiographical." The two verses are nothing special, but damn, the chorus wrecked my heart.
The set ended on a high-ish note with "Heaven and Hell." I'll admit that my punk rock-loving self was very into those grinding guitars at the start but I found Jay-Z's feature to be clunky, awkward, and mediocre at best. Overall I generally enjoyed the melody and got a kick out of hearing Kanye sing "Guess who's going to jail tonight?" over and over again. The only other small moment that stuck with me from the set was the flow of Travis Scott's feature during the chorus of track 5 "Praise God," but other than that, this album preview was sloppy at worst, underwhelming at best, and generally pretty forgettable.
Its sheer unfinishedness became much more apparent upon the second listen once the novelty of the new release faded. I left with the impression that the record is barely halfway finished and it seems that recent news of Kanye's whereabouts confirms that suspicion: posted a photo of his new bedroom in Atlanta's Mercedes Benz Stadium after news outlets reported that he set up a studio and moved into the stadium to finish the record. As one Twitter user said, "I think it's important that we have at least one music maker who is actually out of their mind and not just posing." I couldn't have said it better myself.
The fleeting moments of near brilliance during this live stream give me some hope that Kanye will get his shit together in the studio and craft a powerful record from the strongest scraps. As of now the current release date for Donda is August 5. But as I've said before and I'll say again, I won't believe there's an album until I can stream it on Spotify.
Midwife— Luminol
genre — heavenmetal
for fans of — have a nice life, deafheaven, planning for burial
Recording under the moniker Midwife, multi-instrumentalist Madeline Johnston released her third studio album Luminol via The Flenser earlier this month. Johnston currently resides and works in San Miguel, New Mexico by way of Denver, Colorado. After her international tour plans were canceled due to the pandemic, Johnston spent all of the lockdown creating her latest record. Luminol was written, recorded, and produced by Johnston herself and features collaborations from Tucker Theodore, Angel Diaz (Vyva Melinkolya), Zachary Cole Smith, Ben Newman, and Colin Caulfield (DIIV), and Dan Barrett (Have A Nice Life).
There is no way to avoid the sadness that is central to this 6-track record. As a self-described "heaven metal" musician, Midwife's emotive discography explores dark subjects and feelings of devastation and this latest release is no different.
Johnston is quick to reveal her fragile heartbreak with tracks like "2020" and "Colorado." Midwife repeats the phrase "and it feels like heaven is so far away" exclusively in "2020." Despite lyrical complexity, she serves an enthralling combination of her muffled layered vocals and gritty guitars that simulated the dramatic languish endemic to 2020. The lyrics of track four, "Colorado," felt uniquely pointed at me as she contemplates grief and isolation in the chorus: "How much more death can one person take? / No, I'm not ok / All my friends are in New York / All my friends are in LA / All my friends are in Chicago." My inner art historian appreciated the Weyth nod with the closing track "Christina's World." She sings, "Thought I was in an Andrew Wyeth / Crawling up the hill, towards the house / Show me the way," evoking the myth Sisyphus, of the long strenuous walk up the hill of life, but reminding us that there is beauty around us available for those who seek it.
In her press release, Johnston explains the meaning behind the record's title: "Luminol is a chemical used by forensic investigators to reveal trace amounts of blood left at a crime scene. When it reacts with blood, luminol emits a chemiluminescent blue glow that can be seen in a darkened room. In the same way, this chemical reveals evidence at a scene, Midwife is interested in profound truth - turning trial and tribulation into sources of light. Luminol navigates themes of incarceration, locus of control, clarity, self-harm, confinement, agency, and truth-seeking, all erupting in a bioluminescent Rothko color-field of blue"
The album cover is a photograph of Madeline Johnston's mother taken in the 1980s when she was the same age as Madeline at the time of recording. Though the ephemeral woman is Johnston's mother, she hopes that the anonymity of her figure will inspire listeners to picture themselves in her place: at the precipice of something mysterious and larger than ourselves, looking out into the distance of the unknown horizon asking, "What now?"
score — 7.5/10
favorite tracks — 2020, colorado, christina's world