Hiatus Kaiyote — Mood Valiant
genre — alternative r&b
for fans of — flying lotus, thundercat, taylor mcferrin

The alternative R&B Melbourne-based four-piece Hiatus Kaiyote released their third full-length studio record,
Mood Valiant
, on June 25 under Flying Lotus's record label, Brainfeeder. The quartet, led by the powerhouse, Nai Palm, is back stronger than ever with her commanding and intoxicating vocals.
After the release of their last record, Nai Palm was diagnosed with breast cancer. "I became so acutely aware of my mortality," she said. After a mastectomy that saved her life, Hiatus Kaiyote's bassist Paul Bender said: "I've never seen anyone go through something like that and be so triumphant, vibrant, present, grateful." As a long-time fan of this group of talented musicians, I certainly was grateful to hear more material in the aftermath of such a tragic diagnosis.
I tepidly enjoyed but was not blown away by the record's singles, "Chivalry Is Not Dead," "Red Room," and "Get Sun (feat. Arthur Verocai)," released earlier this year. However, after giving it several listens, I can confidently say that
Mood Valiant
seems to be Hiatus Kaiyote's most polished work yet, though it remains less memorable than the vividness of their 2015 record
Choose Your Weapon
.
What it lacks in vividness it makes up for in soul. Hiatus Kaiyote's latest 12-track LP is inviting and sensual in the best way, allowing the listener to become mesmerized with the irregular time signatures and deep grooves. The record begins with a 35-second instrumental track, "Flight of the Tiger Lily," which features birdsong and field recordings scattered throughout the musical notes. This idyllic overture sets a tone of renewal for the rest of the record; a celebration of celebration itself.
The fourth track, "And We Go Gentle," is an immediate standout. Nai Palm's layered vocals combined with a mellow snare drum and juicy bass line are an eargasm of sorts. Before you hit the chorus, you'll find yourself closing your eyes, gently swaying with the beat as you hope the buttery melody never ends (good thing the "repeat" button exists, no?).
The sixth track, "All the Words We Do Not Say," is the most Kaiyote-esque track of the bunch with its swelling drums as Nai Palm repeatedly belts the title. Track six is followed by a 40-second instrumental interlude that leads into track eight, "Rose Water," another standout of the record. Here, Hiatus Kaiyote demonstrate their mastery of musical composition by building upon drummer Simon Mavin's 5/4 time signature experimentation. The backing piano ripples like a stream as Nai Palm's vocals practically dance on top of lush instrumentation.
Mood Valiant
ends with a playful tune, "Blood And Marrow." Between the lightly plucked piano notes, skippy 808s, and Nai Palm's enchanting bubbling falsetto, the twelfth and final track serves as an appropriate closer for this record about rebirth.
score — 8/10
favorite tracks — and we go gentle, rose water, sparkle tape break up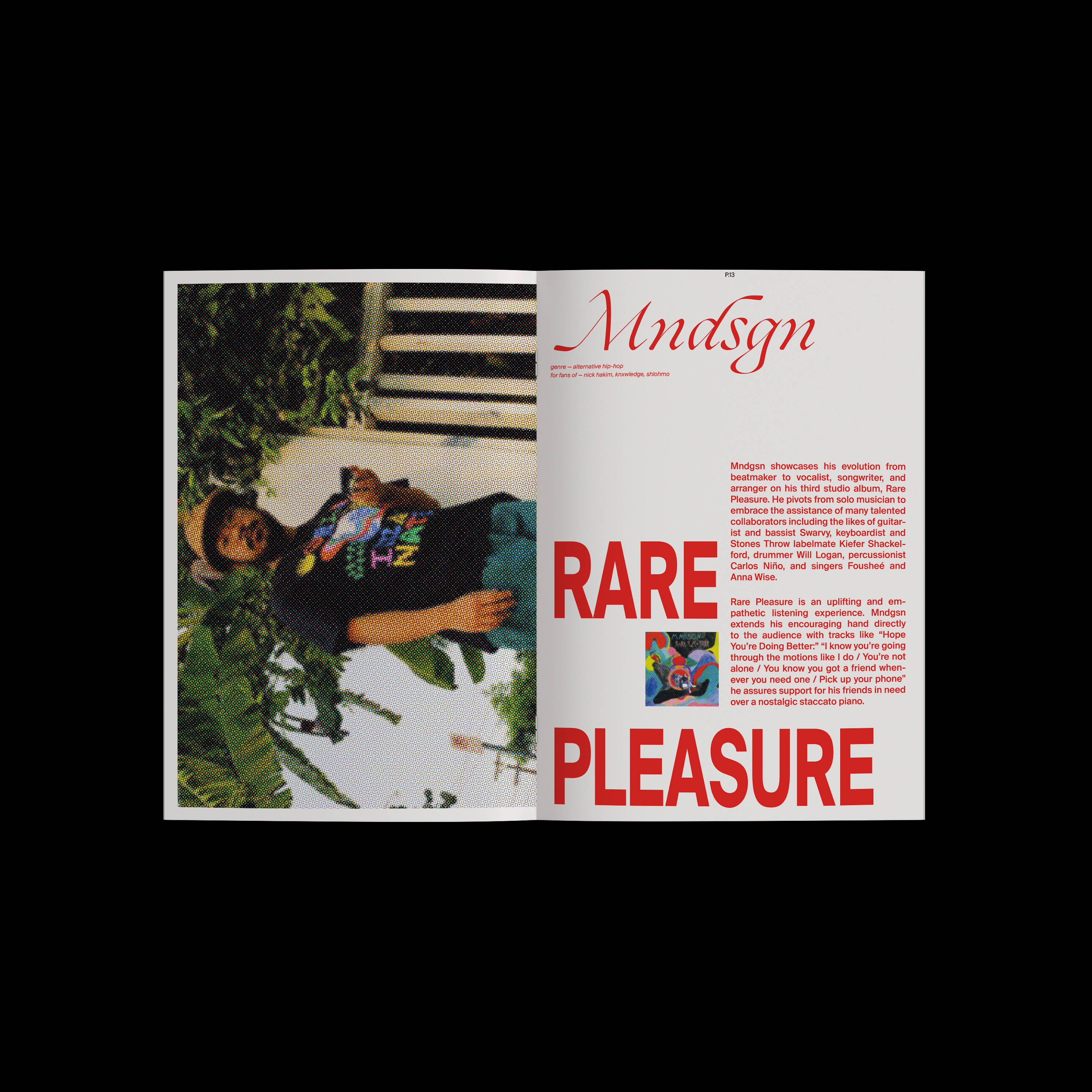 Mndsgn — Rare Pleasure
genre — alternative hip-hop
for fans of — nick hakim, knxwledge, shlohmo

Mndgsn showcases his evolution from beatmaker to vocalist, songwriter, and arranger on his third studio album, Rare Pleasure. He pivots from solo musician to embrace the assistance of many talented collaborators including the likes of guitarist and bassist Swarvy, keyboardist and Stones Throw labelmate Kiefer Shackelford, drummer Will Logan, percussionist Carlos Niño, and singers Fousheé and Anna Wise.
Rare Pleasure is an uplifting and empathetic listening experience. Mndgsn extends his encouraging hand directly to the audience with tracks like "Hope You're Doing Better:" "I know you're going through the motions like I do / You're not alone / You know you got a friend whenever you need one / Pick up your phone" he assures support for his friends in need over a nostalgic staccato piano.
Mndsgn invites his audience to come as they are in the eighth track, "Masque," where he asks that we abandon our manufactured masks that obscure our authentic selves. He reminds us that "We don't have time to be wastin' / So, can we cut to the chase and / Lift the veils we love to be adorned with? / Set them aside and show me what's inside" in an invitingly languid tone.
Throughout the rest of the record, Mndsgn whisks us away to velvety skies and introspective valleys in this sentimental dedication to the depths of the human experience and life's simple delights. He sonically explores these themes with a wide variety of musical motifs and accompaniment styles from alternative R&B to neo-soul to lo-fi hip-hop, and though at times this project sounds derivative of artists like Nick Hakim, it is nevertheless an lovely soundtrack to serve as the backdrop to creating lasting memories on dreamy summer nights.

score — 7.5/10
favorite tracks — slowdance, masque, colours of the sunset
Kings of Convenience— Peace or Love
genre — pleasant pop
for fans of — feist, andrew bird, josé gonzález

The Norwegian duo are back after a twelve-year hiatus with an eleven-track LP titled
Peace or Love
. Despite the decade-plus that has passed since their 2009 release,
Declaration of Dependence
, Erlend Øye and Eirik Glambek Bøe. still possess the ability to take the listener on an immersive journey through their carefully crafted Norwegian-inspired world. The duo does not stray from their signature pleasant pop style; however,
Peace or Love
suggests a more somber mood than previous works. It is easy to write off their halcyon sound as benign, but the fruits of their efforts in this project cement the legitimacy of pleasant pop as a contemporary genre; even the most deceptively effortless and warm tracks are worth examining based on their charm alone.
The first single, "Rocky Trail," is the second track of the record. This quintessential Kings of Convenience melody is aided by picked upbeat acoustic guitar chords and classic string accents, yet the lyrics reveal a message of regret over a dissolved relationship.
We are treated with a feature from female vocalist Feist on track five, "Love is A Lonely Thing," and on track nine, "Catholic Country." In "Love is A Lonely Thing," Feist's delicate voice compliments their timbre as the pair question the sacrifices and struggles required for love. This track is a strongly somber and contemplative moment of
Peace or Love
; a testament to King's of Convenience ability to remain sonically light while singing of a cynical fate.
"Catholic Country" takes a thematic 180 as Feist and NAME sing about their fluttering yearning for intimacy with a much desired other. The pair paint a representational image of falling in love by express their giddy excitement alongside their anxieties about the possibility of relational failure. It is sweet, endearing, melodically cheery, and makes me pine for romance.
Kings of Convenience's latest record is full of familiar gossamer songs. While it might not be the most compelling or memorable set of tracks released this year, it still offers some pleasant sonic comfort and escape.

score — 7.5/10
favorite tracks — rocky trail, love is a lonely thing, catholic country